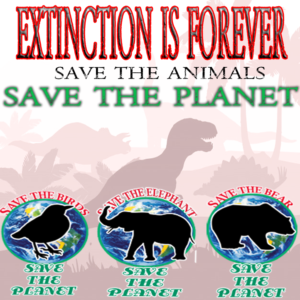 EXTINCTION IS FOREVER
SAVE THE ANIMALS
SAVE THE PLANET
Help to create awareness of saving the planet by protecting the animals. Become an ambassador of the concept of saving the planet for next generations GO HERE  to see how you can help to spread the word
Scientists estimate that 150-200 species of plant, insect, bird, and mammal become extinct every 24 hours. This is nearly 1,000 times the "natural" or "background" rate and, say many biologists,  is greater than anything the world has experienced since the vanishing of the dinosaurs nearly 65 Million years ago.
There are five major causes of extinction: habitat loss, an introduced species, pollution, population growth, and overconsumption.
Applying the same statistical approach to extinction data revealed a rate of 100 to1,000 species lost per million per year, mostly due to human-caused habitat destruction and climate change.
Dr. Jenny McGuire, a postdoctoral research scientist at the University of Washington's School of Environmental and Forest Sciences says "in general scientists are in agreement that we're at a period of heightened extinction risk and rates, and that's been occurring nearly since humans have come onto the landscape."
(source: onegreenplanet.org)