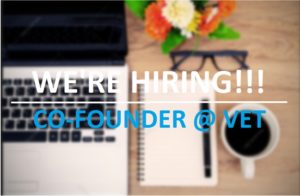 VET is looking for a technical co-founder!
Why be just an outsider when you can be a part of the movement? As we approach the realm of technology as a disruptive tech startup covering innovative, inspirational engineering design, we are looking to expand VET team.
Are you a tech lover with passion and expertise in virtual and digital technology and want to be part of a global movement? Then we are waiting to hear from you. Come join VET team today!
More info? https://virtualengineering.tech/